The Baobab is a prehistoric tree that grows in the dry African savannah. Known as the tree of life, it symbolises endurance in a landscape where little else can thrive. 
It's no surprise, therefore, that in a sometimes hostile world for refugees, a collective of volunteers in Rome known as the Baobab Experience is protecting them.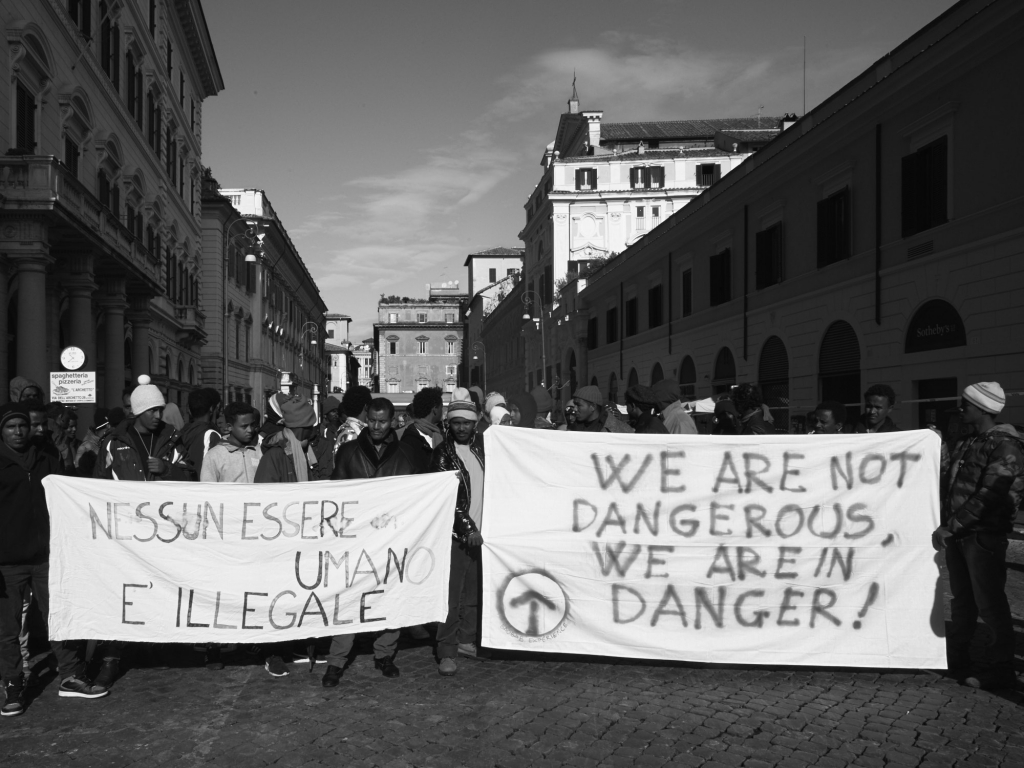 "Thank you Baobab" is one of the banners held by young Eritreans, Somalis and Ethiopians outside the prefettura – the national headquarters of police.
"We are not dangerous, we are in danger" reads another. The migrants say they are in danger because they live in fear of eviction. "It's worse than Calais," one migrant tells me.
The Baobab was founded in 2004 as a refugee centre for migrants in transit through Rome. In 2015, 35,000 migrants were said to have passed through its doors on the Via Cupa. At one point it was providing up to 700 meals a day and it has been hailed as a model for peaceful coexistence between migrants and Italians.
In the past few months many volunteers have taken the humanitarian response on themselves.
Things changed, however, after the first eviction. In December 2015, police raided the centre after the building was sold to private developers. Migrants were transferred away but some were forced onto the street. This led volunteers to set up tents outside Tiburtina station. Together with charities Save The Children and Medici Senza Frontiere, they tried to recreate Baobab in an occupied building nearby.
In September, police moved in once again. The current situation is tense, with migrants sleeping in fields behind the station. Police have cleared away the tents and even threatened migrants with new evictions. Every evening volunteers bring new tents, sleeping bags, warm food and clothes, knowing that police could take them away at any moment.
"In the past few months … many volunteers have taken the humanitarian response on themselves by offering food, clothes, sleeping bags, tents and protecting migrants from the cold and hunger. However, with the ongoing evictions, all the donations have been confiscated and thrown out like rubbish," Amnesty International Italia explained.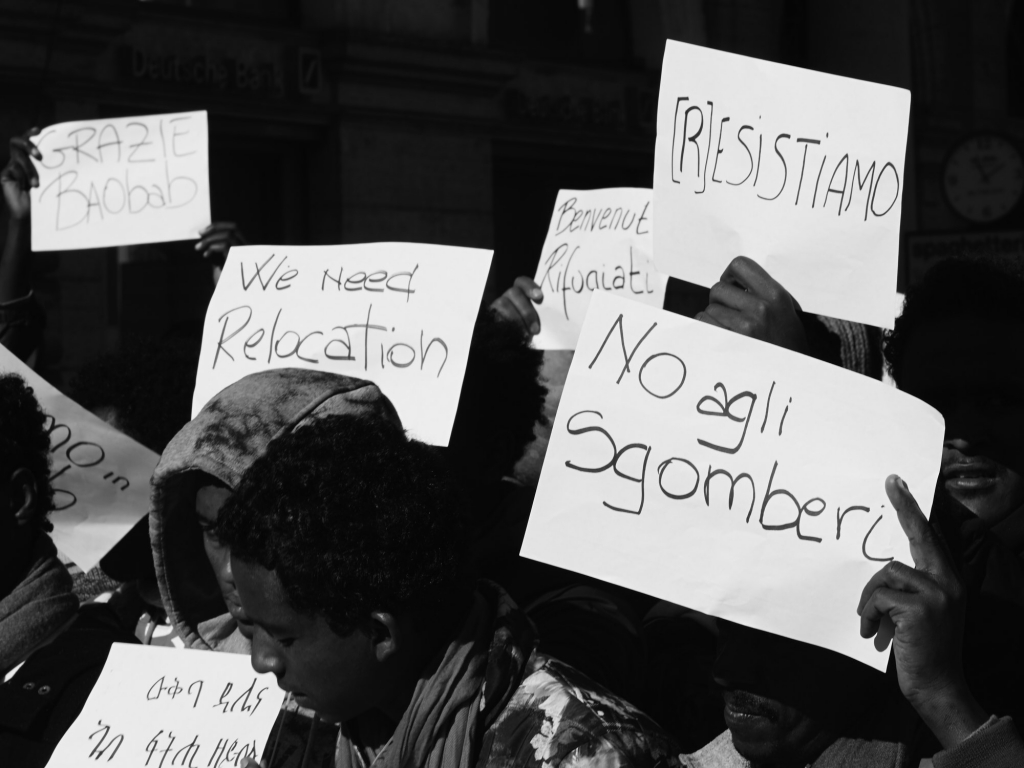 Despite the evictions, the mood at the camp has been jovial, which is mainly down to the volunteers at Baobab. We met them at a solidarity lunch behind Tiburtina station. They were serving warm food, distributing clothes and playing football with the migrants.
We want an end to the evictions, which have become a sort of persecution.
A few Italian teenagers were chatting to them in English. "They are young. We are seeing friendships flourish. It's beautiful," explained one volunteer. Another told me: "They are people, not only migrants. They are my friends."
One Somali man, aged 26, talked to me about football. He supports Manchester City. He has only been in Italy for four months but is thankful to Baobab. "They are good to us," he told me.
On 12 November, volunteers and migrants at Baobab decided to bring their case to the prefettura: "We want an end to the evictions, which have become a sort of persecution. We need a stable situation to protect migrants, who should have the right of asylum and relocation," said Medici Senza Frontiere.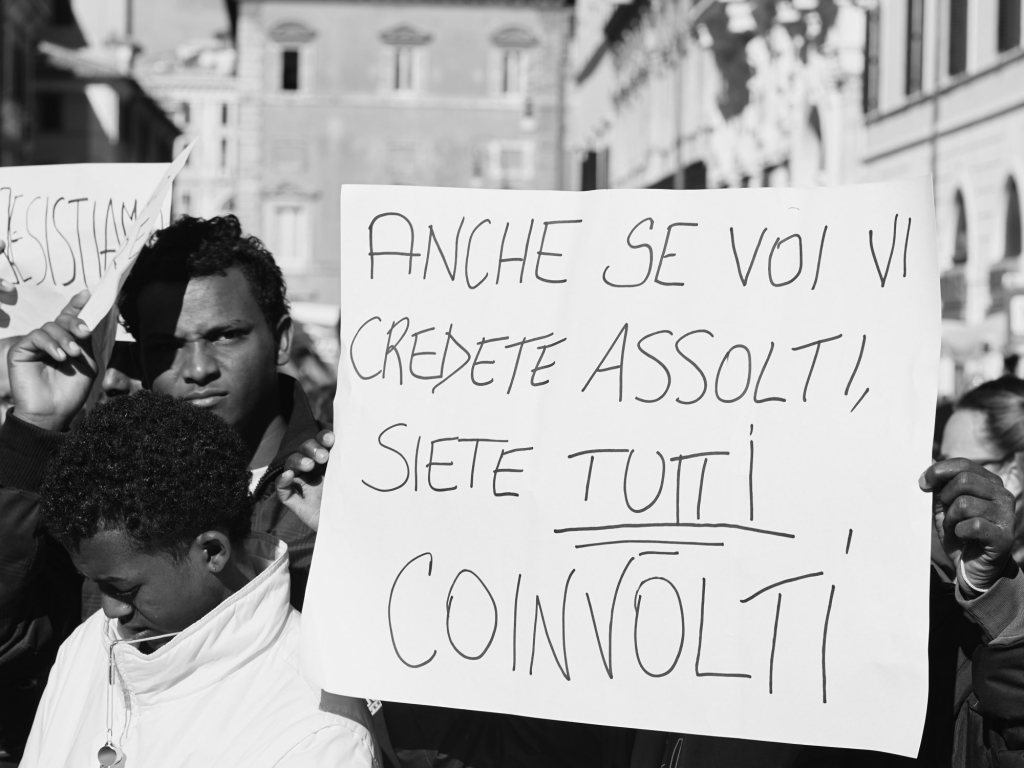 "We're worried and outraged by the ongoing evictions we're seeing. It's an unacceptable reaction by the authorities against vulnerable people who are not guaranteed a dignified welcome."
Their pleas, they say, have so far fallen on deaf ears.
Portraits from Italy contacted the Interior Ministry and the Mayor of Rome, Virginia Raggi, but neither was available for comment.
Pictures were taken by James Whitty. With thanks to Francesca, a volunteer at the Baobab Experience. You learn more about the Baobab Experience at baobabexperience.org